This week is the most solemn and Holy Week in the Christian calendar. Easter Triduum Masses and Liturgy:
Holy Thursday - 7.30pm
Good Friday - Walk of Witness 10am, Liturgy 3pm, Stations of the Cross 7.30pm
Holy Saturday - Easter Vigil 8.30pm
Easter Sunday - 11.00am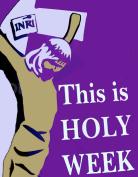 This week is the most solemn and Holy Week in the Christian calendar as we recall, relive and re-enact, through our beautiful liturgies, the events of that first Holy Week. Wednesday will draw us together in our Cathedral Church, the Mother Church of our diocese, when Priests, Deacons, Religious and the laity will gather around the altar with our Bishop Patrick to celebrate the Mass of the Holy Oils.   

During the Mass, all the Priests and Deacons present will renew their commitment to the ministry and vocation, as all the people present offer their support and encouragement.   During the Mass, our Bishop Patrick will bless and consecrate the Holy Oils for us to use in our Diocese during the coming year. There are, as you know, three holy oils used in the Church's celebration in the Sacraments; the Holy Oil of Baptism used during Baptism, the Holy Oil of Ordination and the Holy Oil of the Sick used for the Anointing of the Sick. All anointing symbolises consecration and dedication to the Lord and also the healing power and touch of the Lord as he reaches out to us through the Sacraments.
 
Holy Thursday

Holy Thursday is a truly special day for all of us as we gather together at 7.30pm to celebrate the Mass of the Lord's Supper, during which we will be having the Washing of the Feet as a sign of our service and love to, and for, each other. Fr Stephen and Deacon Raymond will renew their commitment to the priestly and diaconal ministry and service. Watching takes place until midnight, recalling the Agony of Jesus in the Garden.

Good Friday – Liturgy at 3.00 pm
 
Good Friday is a day of fasting and abstinence, a day of solemnity as we recall the event of the First Good Friday. I hope that every parishioner will make a special effort to give time to the meaning and the solemnity of this day and to a deeper understanding and appreciation of the cross and mystery of our Redemption.

Holy Saturday

Holy Saturday is a day of stillness as we recall Christ in the tomb. At our Easter Vigil ceremonies beginning at 8.30 pm on Saturday evening, we recall and re-live, through the beautiful liturgy of the church, the story of creation as we light the Easter Fire, the lighting of the Easter Candle, the proclamation of the Exsultet – the great Easter Hymn of Triumph, the blessing of the Easter Water and the public renewal of our Baptismal Promises, followed by the first Mass of the Resurrection.