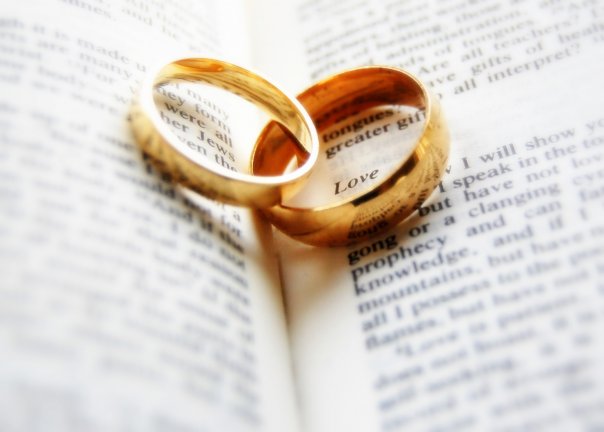 Matrimony is a holy sacrament, officiated by a priest, of uniting a man to a woman.  Through this holy sacrament, the man and woman become one, for as the Lord Jesus said,

'For this reason a man shall leave his father and mother and be joined to his wife and the two shall become one flesh.  So then, they are no longer two but one flesh.  Therefore what God has joined together, let not man separate' (Matthew 19:5,6)
Marriage is a lifelong vocation of a man and a woman to a community of life and love open to children, and - between the baptized. Aware of the many pressures today which can endanger family life, the Church is constantly concerned to make sure that those of you planning to marry are prepared as well as possible. It is important that a couple go to see their parish priest in good time before the wedding.


The sacrament of matrimony signifies the union of Christ and the Church. It gives spouses the grace to love each other with the love with which Christ loves his Church; the grace of the sacrament thus perfects the human love of the spouses, strengthens their indissoluble unity and sanctifies them on the way to eternal life.

— Catechism of the Catholic Church, nos. 1661, 1666
As well as preparation time with their priest or deacon, couples should also attend a course arranged by Catholic Marriage Care or Engaged Encounter.

Catholics are reminded of their obligation to preserve their faith and to do all they can within the unity of their partnership to have all the children baptized and brought up as Catholics. (Non-Catholic partners will be informed of this promise but are not asked to make any similar promise.)

All couples marrying today need the support of the local church. In this way they will be strengthened in the preparation, celebration and living-out of their covenant with one another.

Anyone considering getting married please get in touch with your Parish Priest a minimum of six months before the Wedding to enable all the necessary arrangements & preparations to be made. Couples are expected to attend a marriage preparation course.

Please contact your Parish Priest for details of the next Marriage Preparation Course.
(Weddings in Exton require express permission from the Exton Estate. You should contact the Exton Estate Office directly for more information - Tel: 01572 812208)