Bishop Malcolm McMahon has been appointed the ninth Archbishop of Liverpool.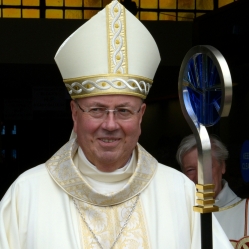 The appointment was announced this morning before the archbishop-elect was due to celebrate Mass at Liverpool's Metropolitan Cathedral of Christ the King.

Archbishop-Elect McMahon's Mass of Installation as Archbishop of Liverpool will be celebrated at 12 noon on Thursday 1 May 2014, the Feast of St Joseph the Worker, in the Metropolitan Cathedral of Christ the King, Liverpool.

Speaking at a press conference in the Metropolitan Cathedral Archbishop-Elect McMahon said:
"I am honoured and humbled to have been appointed by our Holy Father Pope Francis as Archbishop of Liverpool. I promise to do my best to repay the trust that he has placed in me, and which the priests and people of the Archdiocese of Liverpool are being asked to put in me from today.

"I would like to thank Archbishop Patrick Kelly for his many years of service in this Archdiocese, and Bishop Tom Williams, who has been Apostolic Administrator since Archbishop Kelly's retirement last year.
"I am grateful to my family and friends, my Dominican brethren, and the priests and people of the Diocese of Nottingham for their support, guidance and friendship. I am naturally sorry to be leaving Nottingham, my home for the last thirteen years, and I will miss the people there; I hope that the prayers of my Diocese will come with me as I prepare to bid them a fond farewell shortly after Easter.

"The Archdiocese of Liverpool has a long and proud history, rich in the tradition of missionary discipleship. We just have to think of the many priests, deacons, religious and laypeople who have done so much to proclaim the Kingdom of God and who gave their lives in his service, and the Archdiocese's parishes, churches and schools are living witnesses to God's love for us. The rich and living Catholic heritage of the Archdiocese should inspire us and challenge us, and I know that I can rely on the prayers and support of the Catholic faithful as I take up the challenge which lies ahead of me.

"I am also looking forward to working with my fellow Christians from other Churches and communities, people from all religious traditions, and civic and political leaders, building up the good relationships which already exist between us, in our endeavour to serve the common good.