Pope Francis has appointed Mgr Patrick McKinney, a priest of the Archdiocese of Birmingham, as tenth Bishop of Nottingham.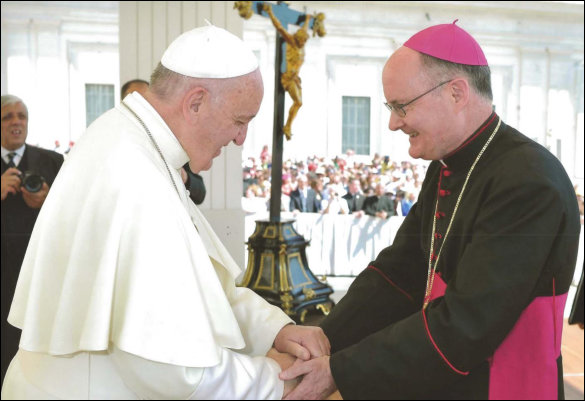 Mgr Patrick McKinney met the Holy Father Pope Francis in Rome this week in advance of his Ordination as Bishop of Nottingham. The meeting took place at the end of the General Audience, which takes place on Wednesdays throughout the year, when many thousands of people from around the world have the opportunity to see Pope Francis, listen to his teaching, pray with him and receive the apostolic blessing.

Mgr McKinney succeeds the Most Rev Malcolm McMahon OP, Archbishop of Liverpool, on May 14 2015, and will be ordained to the episcopate by Cardinal Vincent Nichols, Archbishop of Westminster, in St Barnabas' Cathedral, Nottingham on July 3 2015.
"Throughout my priestly ministry, now almost 37 years, I have always tried to do my best in whatever has been asked of me," Mgr McKinney said.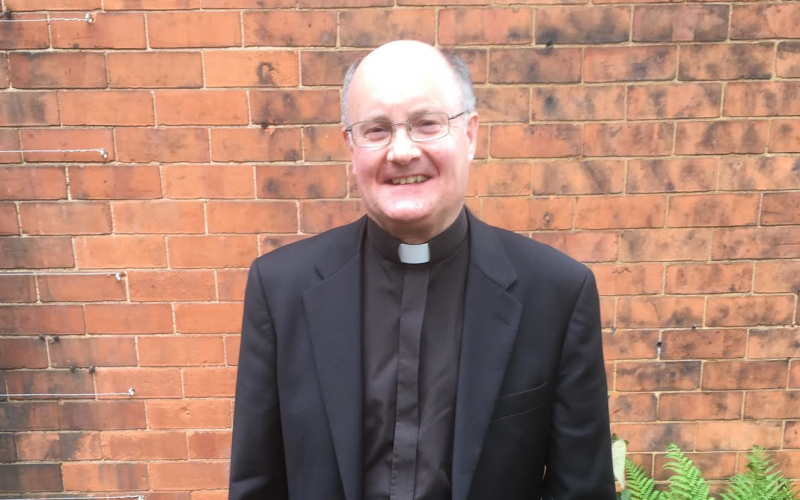 "In this I have been deeply conscious of God's abundant grace and mercy, and I have been greatly sustained by the prayerful support of my brother priests, the deacons and religious in the Archdiocese of Birmingham, and by the prayers of the parishioners whom I have been privileged to serve. I will miss them all very much."
He continued: "I am deeply conscious of the rich legacy left by my predecessors as bishop, especially Bishop Malcolm McMahon, now Archbishop of Liverpool. I know a little of the diocesan You are Living Stones parish renewal programme which he had begun, encouraging everyone in the Diocese to work together in serving the missionary outreach of the Church, and I will do my best to build upon this."
A keen hill-walker, a small part of Derbyshire was "my only contact" with the Diocese of Nottingham. Mgr McKinney said he had received a "lovely welcome" from Catholics in Nottingham. Archbishop Malcolm McMahon led the diocese for 14 years before being appointed to Liverpool.The new Bishop of Nottingham has said he learnt of his appointment as he was getting ready to go walking on his day off. "I had just changed into my walking gear when the mobile rang and it was a number I didn't recognise so I didn't answer it." When the 61-year-old listened to his voicemail, it was a message from the nuncio summoning him to his Wimbledon residence. There, he was informed that the Pope had appointed him as the tenth Bishop of Nottingham.

He said: "I was utterly surprised, it came completely out of the blue. I was given the opportunity to pray for a while and then come back with an answer, and I said yes."

Mgr McKinney was born on April 30 1954, the eldest son of Patrick and Bridget McKinney, originally from Ireland, and brought up in Birmingham. He began his studies for the priesthood at in St Mary's College, Oscott, the Archdiocese of Birmingham's seminary for the training of priests, in 1972, and was ordained to the priesthood on July 29 1978 in St Mary's Church, Buncrana, Co Donegal, Ireland, where his family lives.

After his Ordination he was appointed assistant priest in the parish of Our Lady of Lourdes, Yardley Wood, Birmingham, and chaplain to St Thomas Aquinas Secondary School, Kings Norton, Birmingham. Between 1982 and 1984, he was a student at the Gregorian Pontifical University, Rome, where he gained a Licence in Sacred Theology. Returning to the Archdiocese of Birmingham, he taught fundamental theology in St Mary's College until 1989, when he was appointed Rector of St Mary's College, a post he held for nine years, during which period he was also a lecturer in ecclesiology, the theology of the Church.

He left the College in 1998, and until 2001 he was parish priest of St John's, Great Haywood, and Episcopal Vicar for the north of the Archdiocese of Birmingham. He left the parish in 2001, remaining as Episcopal Vicar until 2006 when he was appointed parish priest of Our Lady and All Saints, Stourbridge and Dean of the Dudley Deanery.

He was made a Prelate of Honour in 1990 and a member of the Metropolitan Chapter of St Chad in 1992, and has served for a time as Chair of the Birmingham Archdiocesan Ecumenical Commission.

Archbishop McMahon, who was Bishop of Nottingham from 2000 until 2014, welcomed the appointment of Mgr McKinney.

"The Diocese of Nottingham is a big Diocese with a big heart, and I hope that Mgr McKinney will be as happy as Bishop of Nottingham as I was for almost fourteen years," he said.