The message of Lent was made clear in the liturgy for Ash Wednesday. When we were given ashes on our forehead, we heard the priest say, "Repent, and believe in the Gospel" or "Remember man that you are dust and to dust you shall return".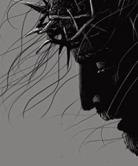 These are powerful words. They are in direct opposition to most of what we will see and hear around us every day. It will not be easy to see Lent as a holy and important season this year.
We do not live in a society where many people are Catholics. In order to create a sense of the importance of Lent, we will have to develop it within our own hearts and in our homes and families.
In Lent we should take extra time to pray. We should bring back into our lives things that we may have allowed to fade out: praying every night before going to bed, saying the Rosary during the day, saying Grace at meals.
We could make this Lent a time when we really reflect on the importance of what we are doing when we receive Holy Communion. Do we make a proper thanksgiving afterwards? Or do we hurry away from Church, leaving before the Mass ends so as to be first in the exit from the car park? Do we start to chatter with friends whilst in Church and while others might be praying?
During Lent we could recall the Church's instruction that we make every Friday a day of penance. We are meant to perform some penitential act – for example, refrain from meat. Do we? In Lent we should be performing some serious and genuine act of penance – giving up sweets or coffee or alcohol or TV.
If we find ourselves saying "Oh, I don't have any sins for which I need to do penance" are we sure we are telling the truth about ourselves?